Tommy's Dictionary of the Trenches - 1.0
As extracted and converted into OWL / RDF by the Muninn Project.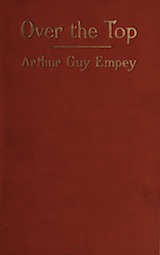 Working Draft — 04 September 2013
This version:

Latest version:

Last Update: 1.0

Date: 04 September 2013

Author:

Robert Warren, The Muninn Project

The original document that this dictionary is built from has had its copyright expire and is under the Public Domain.
---
Abstract
This dictionary is based on the Tommy's Dictionary of the Trenches by Arthur Guy Empey in the book Over The Top.
Status of this Document
This document should be viewed as Stable and its terms can be used to defined or ground other datasets and ontologies. Comments are welcome at data@muninn-project.org.
Introduction
While written in an ironic - even sarcastic - style, this dictionary is a resource for anyone dealing with military activity from the British perspective during the Great War. It explains a number of idioms and slang used by soldiers in the trench.
The dictionary is meant to be used as a means of grounding other vocabularies and disambiguating terms within historical texts.
"In this so-called dictionary I have tried to list most of the pet terms and slangy definitions, which Tommy Atkins uses a thousand times a day as he is serving in France. I have gathered them as I lived with him in the trenches and rest billets, and later in the hospitals in England where I met men from all parts of the line. The definitions are not official, of course. Tommy is not a sentimental sort of animal so some of his definitions are not exactly complimentary, but he is not cynical and does not mean to offend anyone higher up. It is just a sort of "ragging" or "kidding," as the American would say, that helps him pass the time away." - Arthur Guy Empey, Over the Top
Organization
The dictionary is marked up using the SKOS Simple Knowledge Organization System with some class derived from dbpedia.org to identify the different ironic, slang and derogatory nicknames [1, 2] and definitions.
A local modification that is borrowed from the increasingly overloaded main Muninn ontology is the muninn:acronym property that is a sub-Property of the skos:altLabel property that specifically represents acronyms. The altLabel property is meant to represent "[synonyms], near-synonyms, abbreviations and acronyms" and the use of a sub-property allows to selectively represents only acronyms for the concept.
This SKOS dictionary is a simplified representation in that it makes no difference between the classification of the term and the definition. Take for example derogatory material, it is not possible whether it is the term that is derogatory or the definition. SKOS has made some attempt to deal with this problem through the use of SKOS eXtension for Labels (SKOS-XL) that can accommodate more complex data models and that allows a term to be created for a literal. It also allows the labeling system to ensure consistency with respects to acronyms. This method is not widely used at the moment and requires "smart" label generation that is beyond current software tools. The issue will be revisited at a later time, but the dictionary is stable at is for most current usage.
Skip directly to cross-reference.
---
Global cross reference
Detailed references for all terms, classes and properties.
Conclusion and Future Work
Modeling military organizations is a complex endeavor and this dictionary is meant to add context to texts of the Great War.
References
| | |
| --- | --- |
| [1] | Arthur Guy Empey. "Over the Top". G. P. Putnam's Sons, 1917. [ http ] |
Version History